Se podrá dar opiniones, y consejos para cualquier dificultad que haya en el juego (cómo pasar de éste nivel, qué tengo que hacer aquí, etc...), y al acabar el juego se pondrá una calificación de 1 a 10 - AL ACABAR, es decir, si no has acabado el juego por su dificultad, por ejemplo, podrás calificarlo, pero notificando que no lo has acabado ("N.A" al lado de la nota, por ejemplo). Esa calificación no será tomada en cuenta para la nota final.
_____________________________________________________________________
Tutorial DOSBox
Página oficial: www.dosbox.com
Enlace de descarga:
http://www.dosbox.co...load.php?main=1
Lista de comandos:
http://www.dosbox.co...ki/Special_Keys
¿Cómo usarlo?
1. Descargar e instalar el emulador. Luego descargar
ésto
que nos permite guardar y cargar partidas (ALT+F5/ALT+F9) [LAS PARTIDAS GUARDADAS (states) SE BORRAN AL CERRAR EL EMULADOR; son simplemente eso, states, (estados).
2. Crear una carpeta dese donde se ejecutarán los juegos. Yo he creado la carpeta OLDGAMES en C:\ (Directamente en Equipo/C; el directorio de la carpeta sería C:\OLDGAMES). Poner los juegos descargados en ésta carpeta (por ejemplo en Dizzy Magicland; copiar MAGIC.EXE a ésta carpeta, NO toda la carpeta descargada, solo el ejecutable, a menos que se indique lo contrario en la descripción del juego).
3. Ir a Inicio, todos los programas, DOSBox-0.74/Options/DOSBox 0.74 Options y cambiar fullscreen=false por fullscreen=true.
4. Ejecutar DOSBox (yo prefiero utilizar el (noconsole) para tener más espacio en pantalla).
5. Escribir mount C C:\OLDGAMES (pulsar Enter/Intro) C:\ (pulsar Enter/Intro) NOMBREDELJUEGO.EXE (pulsar EeNTER/Intro). En el caso de Dizzy Magicland sería MAGIC.EXE
Nota: algunos no podréis poner ":" o "\" en DOSBox; usaréis los códigos ASCII - ALT + 58 y ALT + 92, respectivamente.
6. Profit!
-No todos los juegos requieren emulador, solo los marcados-
1ª semana

:

Dizzy - Magicland



DOSBox
Magicland Dizzy es un juego de plataformas (de aventuras) publicado en 1990 por Codemasters para ZX Spectrum, Comodore 64 y Amiga. En 1992 ya había disponibles versiones para DOS, Atari ST y Amstrad CPC. Es el sexto juego de la serie Dizzy y el cuarto de aventuras. La historia, que tiene lugar en un mundo llamado Magicland, es una continuación de la de Fantasy World Dizzy, el anterior juego.
El jugador controla a Dizzy, un personaje con forma de huevo que intenta salvar a seis de sus amigos que han sido hechizados por el malvado mago Zaks.
El juego es también conocido como Dizzy 4. Fue reconocido positivamente por la crítica en todas las plataformas, con puntuaciones de 80-90%. En Noviembre de 1991 los juegos de Dizzy habían vendido más de medio millón de unidades para todas las plataformas.
Original de
Abandonia
:
I'm a bit confused as to when Codemasters actually made this little game, but I would say that it was made around 1991. The graphics are the same as Dizzy - Prince of the Yolkfolk. You once again play the role of a little egg with boxing-gloves called Dizzy, and once again you are on a quest to save your beloved Dora, who has for some reason been transformed into a frog. You must explore the land, and try to solve the little puzzles one by one in order to finish the game.

If you have played any of the previous Dizzy games you are aware of how tedious they can be in some places. This game is no exception to that rule; you have no way of saving the game, and death comes quickly and often: two things that really bring down the overall score for the game, although Codemasters have tried to improve other aspects of the game. The biggest improvement is the ability to carry three items instead of two.

The music is nice for about 3 minutes, after which it soon gets very repetitive. In short, following the success of Dizzy - Prince of the Yolkfolk I expected more from this release, so I would give this game a 3.

Part of the Dizzy games Series
Enlace de descarga:
http://www.abandonia...ownloadgame/213
NOTA:

7
2ª semana

:

Jazz Jackrabbit 2



Jazz Jackrabbit 2 es un videojuego de plataformas producido por Epic MegaGames, ahora conocido como Epic Games. Fue puesto en venta en 1998 para PC's que ejecuten Windows, y más tarde para los ordenadores Macintosh. Es la secuela de Jazz Jackrabbit.
Jazz tiene que perseguir a Devan Shell a través del tiempo, El hermano de jazz, Spaz, y en versiones posteriores de Jazz la hermana de Jazz Lori, se introducen como personajes jugables. El juego ofrece opciones multijugador, incluyendo la capacidad de jugar en una red LAN o Internet.
Original de
Abandonia
:
Este juego no necesitaría de ninguna presentación en absoluto. Es la secuela del siempre popular Jazz Jackrabbit. Si nunca has jugado ninguno de estos juegos o no has escuchado acerca de ellos, has estado viviendo muy lejos de cualquier civilización. Jazz Jackrabbit es uno de los juegos de arcade mejor conocidos y más querido que ha sido realizado en la historia de los juegos.

¿Qué es lo que hace a Jazz Jackrabbit tan especial?
Muchas cosas. Los gráficos coloridos con extremo detalle. Las voces. Las animaciones fluidas. Los queridos personajes Jazz y Spaz (los cuales tienen habilidades especiales.) Los graciosos monstruos. Los muchos secretos en el juego. El interesante diseño de los niveles... en resumen TODO lo que hay en el juego, ¡pero especialmente la música! Si te encuentras con un juego que tenga una mejor música que Jazz, por favor dímelo. Desde el momento que inicias el juego, la música te abrazará hacia el mágico mundo de Jazz Jackrabbit.
Enlace de descarga:
http://www.abandonia...ownloadgame/294
NOTA:

7
3ª semana

:

Tom & Jerry



DOSBox
Un juego de Nintendo también conocido como
Tom and Jerry: The Ultimate Game of Cat and Mouse! or Tom and Jerry (and Tuffy)
lanzado por Hi Tech Expressions para NES en 1991 y para PC en 1993. Tom ha secuestrado a la nieta de Jerry, Tuffy, y la ha cerrado en un baúl en el desván. Entre las armas usables están: goma de mascar, cuchillo de carne, vasos de agua, bolas de naftalina, martillo, taladro y tinta invisible.
Original de
Abandonia
:
Tom has done it again! He has kidnapped Jerry's cousin Tuffy and it's up to you (you're Jerry) to rescue the poor little blue mouse.

This game is a typical side scrolling action game. You control the little but famous brown mouse by the name of Jerry. You move him with the cursor keys, jump with ctrl and use inventory items with alt. With space you can change different items, but I suggest you keep the blue marble handy, as it is your primary weapon against all sorts of stuff you'll have to fight or avoid on the way (from toy soldiers to different bugs).

The game unfortunately has no save feature, so if you restart it, you'll have to play it all over again. Luckily if you don't exit the game, you'll be able to continue from the beginning of the level you were currently in.

The game is not too hard, but it's not really easy either. The graphics are nice enough, but there's not much I can say about the sound. All in all this is an average game, getting an average score. The only thing that makes it stand out a little is the title. They made a mediocre game based on very famous characters and achieved at least some recognition, but this still won't get you hooked on the game.
Enlace de descarga:
http://www.abandonia...ownloadgame/705
NOTA:

4,5 N.A
4ª semana

:

Gobliiins



DOSBox
La saga Gobliiins de videojuegos para PC consiste en cuatro títulos desarrollados por Coktel Vision, y publicados por Sierra On-Line, salvo la última entrega, publicada por Société Pollene y Snowberry Connection. Esta saga está compuesta por Gobliiins (1991), Gobliins 2: El príncipe bufón (1992), Goblins 3 (1993) y Gobliiins 4 (2009).
Los juegos se pueden considerar una mezcla entre aventuras gráficas y juegos de puzzles. El jugador necesita encontrar una solución dentro del nivel, consistente en una o más pantallas, para poder progresar en el juego.
El juego original de la saga, publicado en 1991 por Sierra On-Line. En él controlamos a un equipo de tres goblins, Oups, Ignatius y Asgard,
cada cual con una habilidad concreta
.
Oups es débil y puede recoger un objeto para combinarlo
luego con otro objeto en pantalla o transportarlo a otro lugar.
Asgard es más fuerte y puede trepar y pegar puñetazos
, aunque no parece muy listo. Por último,
Ignatius es un mago
que puede utilizar sus
habilidades
con, habitualmente,
efectos imprevisibles.
Muchas acciones
dañan
a los goblins, incluyendo
dejarlos en un sitio poco seguro, usar objetos de manera incorrecta, o con el personaje inadecuado, o hacer lo propio con la magia.
Todo ello irá reduciendo una
barra de vida conjunta
, que si se llega a
vaciar
el juego llegará a su
fin
.
El juego incluye un sistema de salvaguarda mediante códigos, que dependen del nivel y de la vida que tengas al terminarlo.
Original de
MyAbandonware
:
IOffering adventure, strategy in a world of puzzle-solving, Gobliiins (also known as, Gobliny, Goblins, Gobliiins 1) is an abandonware developed by Coktel Vision and published by Sierra On-Line, Inc.. Released in 1992, you wander around in a 3rd-person perspective.

Arguably the best Coktel game ever made, lead three wacky goblins on a madcap adventure to restore sanity to the King. The game features wacky but ingenious puzzles, all of which require well-timed co-ordination among the three goblins, each of whom has different abilities that must be carefully exploited. Although the game was billed as an "adventure," it should be more appropriately labelled as a "puzzle adventure" due to the intensity and sheer number of puzzles that overshadow the plot. Gameplay is even structured like a puzzle game: each screen is self-contained, i.e. all items you can get, except special quest items, are only used in the present scene. One of the best things about the game is that you are free to try a wide range of actions; when you use the items inappropriately, the game shows you the results (usually funny) even though it's the wrong action. This is a far cry from boring "sorry, you can't do that" response in most games, and helps make the game a lot more playable and fun. The game gives you a password for later play after you finish each scene, and there are dozens of them to go through, each more difficult than the rest. With great graphics, wacky but logical puzzles and cast of characters, and charming sense of humor, Gobliiins is a must-have. Just beware that you WILL get frustrated several times in this one
Enlace de descarga: -
5ª semana

:

Prince of Persia



DOSBox

RECOMENDADO
Prince of Persia es una saga de videojuegos del género de plataformas iniciada en 1987. Su éxito se debe a la increíble fluidez de animación lograda en el protagonista, nunca vista hasta entonces. Su autor, Jordan Mechner, estudió durante varias horas filmaciones de su hermano corriendo y saltando con ropa blanca. Así se aseguró de que todos los movimientos resultasen realistas, en un proceso que se denomina rotoscopia.
Prince of Persia I: El Sultán se encuentra lejos de su reino dirigiendo una guerra. Es el momento oportuno para que el malvado visir Jaffar trate de hacerse con el poder. Para lograrlo retiene a la princesa. Ésta tiene una hora para decidir si se casa con él, o muere. El protagonista es un aventurero, verdadero amor de la princesa. Tiene una hora para escapar de la prisión y liberarla.
Original de
Abandonia
:
Many of you may have forgotten already, but before I reviewed this game there was a stub review written by the founder of Abandonia, Kosta. In 5-6 lines of words, he expressed his true feelings about the game and how much he enjoyed it, because Prince of Persia was, in fact, the first game he had ever played. Me on the other hand... I didn't live in that age. Memories – non-existant. Having not heard any hype about the game, I only had the curiosity of an archeologist when discovering a lost civilization.

Despite its soon-to-be 20th anniversary in 2010, you can easily understand the greatness of its simplicity. Far from being flashy, the levels take place in two main settings: the dungeons and the palace. While the dungeons look dark and gritty, with blue bricks on a black background, the palace has more charm and exquisiteness, with sand-yellow bricks on a wall background decorated with oriental ornaments and some Persian carpets scattered around. Floors are formed from slabs, which represent an important element of the gameplay, especially for resolving puzzles and dealing with enemies. There are different types: switch (opens gate), trap (closes gate), loose on the ground (falls down under your feet), loose above (falls on you after hitting it with the head, Mario-style). Other important environment features that you'll meet along the way are the ledges, the doors and the deathtraps (the cutters and the spikes).

The story also isn't complex - it's the basic damsel in distress situation. The Grand Vizier Jaffar has seized power over the country, while the Sultan was fighting a foreign war. You, a guy from a far land (hence the blond hair) has to save the Sultan's daughter... There is one problem, though. In 60 minutes the princess has to choose between marrying the Vizier or death. So the limited time is a grand detriment for our modern rushed society, and many of you might ditch the game, because it requires a lot of practice at the beginning, just like in a racing simulation. Well, don't! Indeed you will play the same level again and again, just so you can get the best time or find the answer to a puzzle, but the pleasure of opening the green marble door and completing the level is immeasurable.

You start at the bottom, in the dungeon, in some white prisoner clothes (simple, but better than the blasphemous anime look they used in the later versions for SNES and Genesis). Make sure you clear the first two levels with the best time possible because the saving feature is only available when you reach the third, and there is only one saving slot. Also, it doesn't matter where you save, every time you load a game (which is possible only at the start of the game) you will find yourself at the beginning of the level. There are two primary modes of playing: the "free running" and the combat mode. In free running you will search for the switch to the last door, avoiding traps and figuring out puzzles (RightArrow and LeftArrow to run in one of the directions, DownArrow to crouch and UpArrow to jump/grab onto a ledge). An important key is SHIFT. Besides using and taking items, it is important because it allows you to move slowly and with caution. Also, when falling, keeping SHIFT pressed will make you hang from the next ledge.

The combat mode is activated when you have an enemy in front of you. Your only weapon is the sword. If you are stabbed when you don't have the sword in your hand, you will instantly die. Most of the enemies you'll encounter are the palace guards. They all have different clothes and fighting styles, so you won't be bored when fighting, but personally I don't see a crucial difference as most of them are easy to deal with. This is where the guard bosses and special characters make their entrance. Fighting them requires a certain level of skill and you can do up to ten consecutive attack-block combos without even hurting them. You use SHIFT to attack with your sword and UpArrow to block, while DownArrow sheathes your sword. At first, combat is really boring, and you can kill the guards just by following their attack pattern and striking at their weak moment without ever blocking. However, this changes gradually with every level, and the enemies will soon have a greater amount of health and unique styles, to which you'll have to adapt. You don't need to stick only to attack-block combinations though. You can also do more creative things like hit more buttons in a different manner and use your surroundings to dispose of them faster. That's why this game was so popular in the first place - you can play the game again and do it differently than the last time.

Everyone knows that fighting involves losing life, and losing life means healing potions. Yes there is a small selection of potions, but I'll let you discover their purpose on your own. Just remember that not every bottle in a dungeon is filled with holy water.

So basically, this is one of the greatest platform games ever made. At that time, both the graphics and the fluent movement were something special. Sure, now we are not so impressed by some inanimate black walls and some burning torches that we could call "special effects", but that doesn't really matter because you'll be focused exclusively on the puzzles and your character. The small details would have made it worse. You'll be happy to see that every action has a believable and enjoyable sample of sound, and the oriental-themed music is placed appropriately. You may find that some situations are hard to surpass, but when you finally complete your adventure, it will have seemed easy. The puzzles are of course logical (except for one that is totally out of this world), but their solutions are masterfully hidden sometimes.
CONTROLES
CTRL+Q - Salir
CTRL+A - Reiniciar nivel
CTRL+R - Reiniciar juego
CTRL+S - Apagar/Encender sonido
CTRL+G – Guardar juego
CTRL+L – Cargar juego
ESC - Pausar juego
Enlace de descarga:
http://www.abandonia...downloadgame/10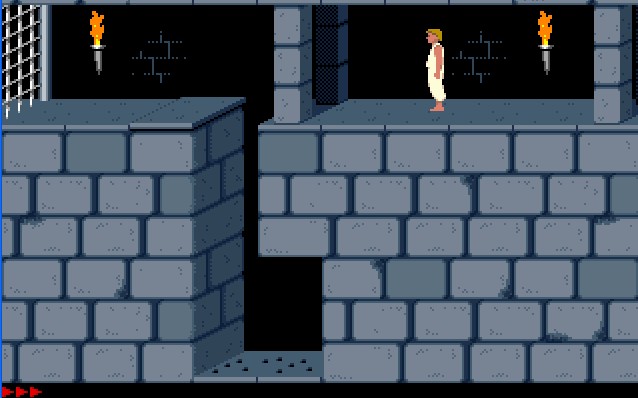 NOTA:

9,5
6ª semana

:

Prince of Persia 2 - The Shadow & The Flame



DOSBox

RECOMENDADO
Prince of Persia es una saga de videojuegos del género de plataformas iniciada en 1987. Su éxito se debe a la increíble fluidez de animación lograda en el protagonista, nunca vista hasta entonces. Su autor, Jordan Mechner, estudió durante varias horas filmaciones de su hermano corriendo y saltando con ropa blanca. Así se aseguró de que todos los movimientos resultasen realistas, en un proceso que se denomina rotoscopia.
Prince of Persia II: Cuando el príncipe llega de uno de sus viajes, se encuentra con que sus propios soldados le arrestan. La razón es que parece ser que el príncipe ha ordenado su detención. ¿Cómo es posible?, Porque el malvado vísir de la primera parte se ha transformado en el príncipe y ha hecho creer a todo el mundo que el verdadero príncipe es un impostor. Por lo tanto debe huir. El príncipe salta por una ventana y empieza el juego.
Original de
Abandonia
:
Thought the story ended with Jaffar's death? Not so fast! After the prince defeated the evil Vizier, the Sultan, who has returned from the foreign wars, offered him great riches. But the stranger had only one wish - to marry his daughter. And so, the young couple lived happily...well, for eleven days. One day, when the prince returned to the castle he noticed, confused, that noone recognised him, not even the princess. Great was his astonishment when he saw near the throne his perfect twin, as if ripped from his own flesh, acting in his place. Yes, Jaffar and his magic have returned! At the Vizier's command, the guards rushed to dispose of our hero. The streets were his only escape...

Prince of Persia 2: The Shadow & The Flame is a collection of 15 levels of pain and frustration, that is, comparing it with the first title in the series. The developers have really improved what was lacking consistence in Prince of Persia, but also ruined the element that made it popular in the first place: character control. The movement is not smooth anymore and the actions are made with an annoying lag after pressing the respective key, which often kills your attempts at jumping over a pit, for example.

The keyboard control configuration has also suffered some modifications, if we don't consider the "free running" mode which has remained the same: Down Arrow to crouch, Up Arrow to jump and scale ledges, Right Arrow and Left Arrow to run in one of the directions and Shift to move cautiosly and hang from ledges when falling. Changes were made to the "combat" mode. Now you can activate it whenever you want, not necessarily having an enemy in front of you. This is done by pressing Ctrl. When in combat, Ctrl serves also for attacking, Up Arrow to block, Right/Left to move and Down Arrow to sheathe your sword and exit "combat mode". Another addition is the multiple saving slots. Comparing it with the first PoP, where you could have only one save file, you now have 10 slots. To bring up the saving menu you press Alt+G, and to load a previous game - Alt+L. They have introduced also a rudimentary checkpoint system (usually one checkpoint per level). The checkpoints help you a lot, because the levels are bigger and like I said, harder. When loading a game you will start either at the beginning of the level, or at the checkpoint after which you saved.

Of course, 3 years of technological progress have brought better graphics. The levels are now diverse and detailed, starting from the harbor, continuing on the beaches and in The Abandoned City, and finally ending with the cultists' temple and the Grand Palace. It's clear that the artists were inspired from different titles of that age. For example The Abandoned City copies perfectly Castlevania's levels, there are even medusa heads and snakes. Speaking of enemies, there's an entire selection of them: guards, skeletons, medusa heads, snakes, cultists (birdmen) and special characters. With each level their life and difficulty increases, so it's essential to learn their attack patterns. The most frustrating are the medusa heads, but once you learn when to strike and after you get the new sword, they'll be piece of cake. There are three swords which you'll use during the game. The second one is the weakest, taking only half of life bullet from the enemy and having a short reach. The first sword and the last "special" sword are basically the same, taking a full life bullet (the difference is in their reach). Obviously, you can't swap the weapons, because you acquire them in special storyline events.

Your main objective remains the same - to open and to enter the final level door...in case there is one. If there isn't, you should use your creative mind and find other means of escaping the place. And let me assure you most of the puzzles here are not logical. What did you expect from a game with magical carpets, flying horses and evil wizards? Slabs are still the most important gameplay element and those come in different types: slab that opens gate, closes gate, opens level door, loose down (falls under your feet), loose above (falls on you when hitting it with the head mario-style), flip-flop (rotates horizontally sending you down in the pit). Perhaps you also want to hear about the wide range of traps present in the game: lava pits, dart guns in the form of small artificial frogs, horizontal spikes and cutters, crushers... Everything you need to avoid boredom. You can try creative ways of killing yourself, or better - to kill your enemies. You can send them in the burning lava or you can push them right into the cutters...

If you read up until now and thought you're lucky there's no time limit in the sequel, you were gravely wrong. You can take your time only when passing the first three levels. The evil Vizier Jaffar curses the princess with an illness and you'll have only 75 minutes to reach the Grand Palace and save her from the clutches of death. Sometimes when you die or clear a level, an image of a tree with fading leaves appears. It shows the princess' remaining life, but it's not really important. If you do everything right and load again each time you die (not restart), you'll have 20-30 minutes to spare when you'll reach the ending.

The story is told by a nice narrator voice in the background, which is an improvement over the almost silent prequel. There is no voice acting, but who needs it in a simple oriental tale. The only sound-related complain I have is they didn't make any for the footsteps, as if the prince were a ghost.

The biggest difference between the first two games in the series is the emphasis on combat. If the first was puzzle-centered, the Shadow & the Flame keeps you active with fighting sequences. You'll be surprised when 2, or even 3 enemies will fight you at the same time. In this kind of situations you should kill them fast one by one, because they'll attack you from both sides, and last time I checked Germany lost the Second World War when battling on two fronts.

If you have the patience of a monk, and the spirit of a warrior you'll simply love the game. Otherwise, the frustration that comes with learning every level corner and suffering death countless times before you understand how to avoid it will certainly take you closer to insanity. And don't worry - nobody will laugh at you if you cheat in this game!
CONTROLES
CTRL+Q - Salir
CTRL+A - Reiniciar nivel
CTRL+R - Reiniciar juego
CTRL+S - Apagar/Encender sonido
CTRL+G – Guardar juego
CTRL+L – Cargar juego
Alt+O - Opciones
Pulsa FLECHA DERECHA y FLECHA IZQUIERDA continuamente - Activar Shadow Mode
BARRA ESPACIADORA - Muestra tiempo restante
ESC - Pausar juego
Enlace de descarga:
http://www.abandonia...downloadgame/51
Abro este tema para que podamos recordar y jugar a aquellos juegos antiguos que tanto nos gustaron. Cada semana postearé un juego nuevo con enlace de descarga (legal).